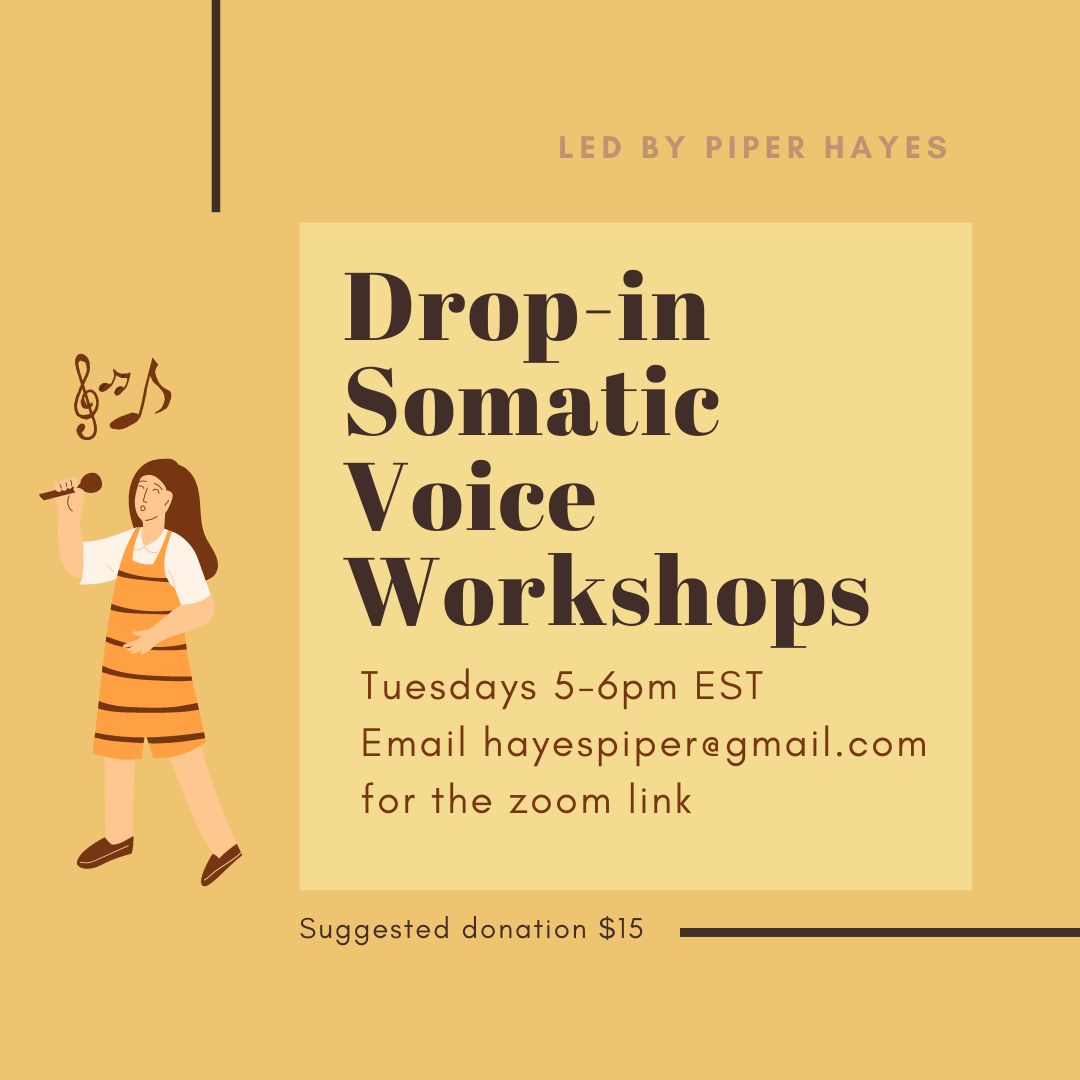 Starting next Tuesday April 6, 5-6pm EST Piper will be offering her first ever drop-in voice workshop. The class will be a pay what you can model, suggested $15 donation (payable by e-transfer hayespiper@gmail.com or Paypal). It will be offered on a weekly basis for those who are looking to learn a holistic approach to vocal expression.
Here's what you can expect: 
Check-in, time to connect and reflect on exactly where your mind and body are at when you arrive 
 
Technique and anatomy lesson/brushup, learning about what is going on in the physical body and how to enhance the instrument we've got is the perfect way into taking care of one's voice as well as setting the foundation for how you are wanting to use it. 
 
Vocal wellness/maintenance, we often forget the very fragile nature of our instrument. You will often hear me say that the voice is 20% technique and 80% emotional/spiritual wellbeing. We will dive into how to care for ourselves both physically as well as mentally. 
 
Exploration of identity through voice (including past, present and desired future), the way we think about our voice has a huge impact on how we use it. You might find yourself uncovering old habits and negative associations with your voice that are no longer serving you. In our time together we will work to develop new relationships that enhance your vocal capacity. 
 
Holistic vocal warm-up and full body movement, you will be guided through a warm-up that gives structure as well as flexibility to deeply check-in with what you are needing in that very moment. This warm-up can be used as a centering activity, a mindful practice, a technical check-in and a way to keep neuro pathways open and stimulated. 
 
Closing, we might use this time to discuss people's experiences and help shape what is needed going forward or simply connect deeper with one another on how we are leaving the gathering.
No commitment necessary. Just shoot Piper an email with your interest and she will get you the Zoom link. See you there!