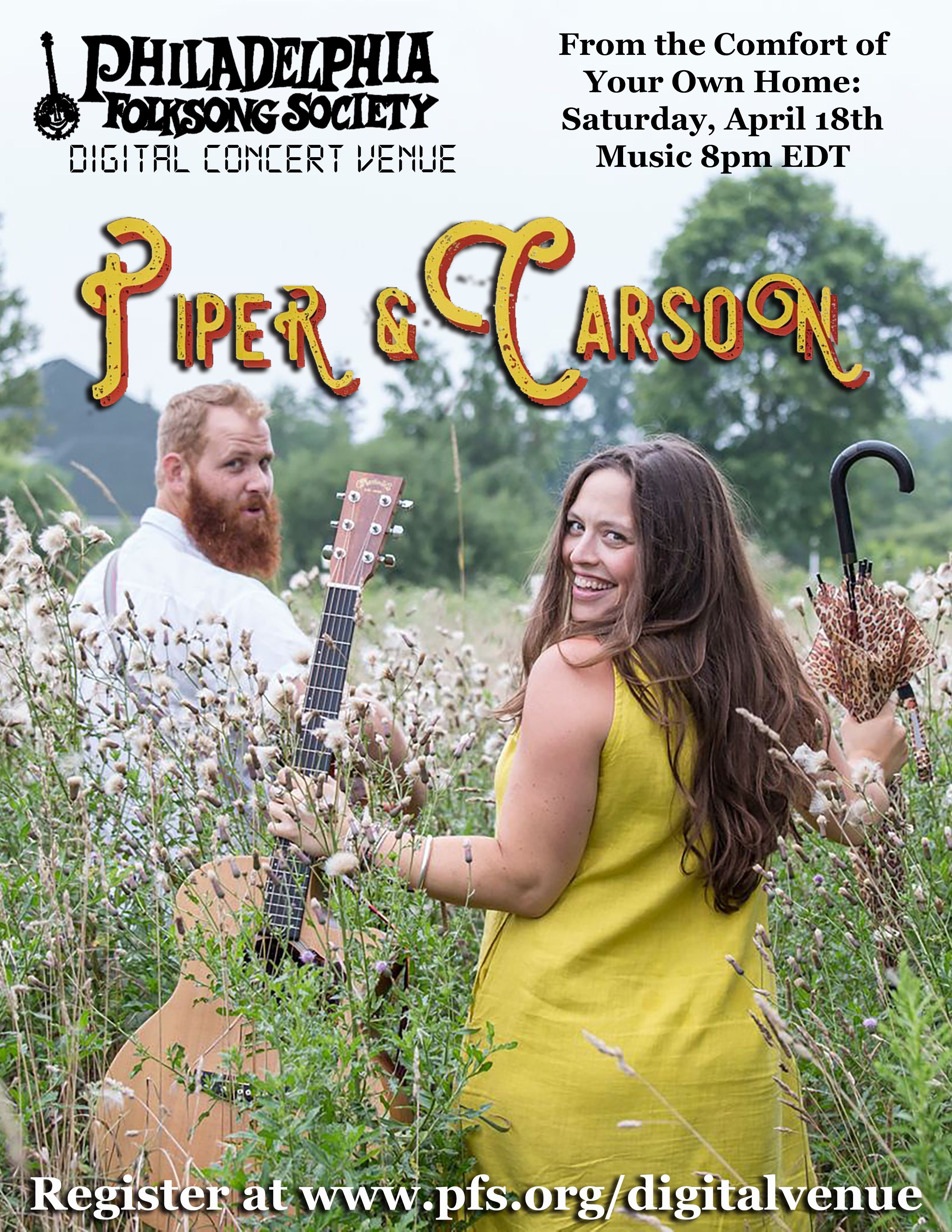 We are so excited to share with you information on our upcoming show with Philadelphia Folksong Society on April 18th. It's been awhile!!! And oh boy have things drastically changed in the last month. We hope you're all holding up ok as these times have a way of being continuously challenging in new ways. We are moving through all the ups and downs together and feel so grateful for our community. We would just love to share our upcoming Saturday night with you. 
This live stream is a little different than others so please check below to signup in advance and make sure you have access to sharing live with us. 
Grab access here: https://folksongsociety.wufoo.com/forms/pfs-presents-piper-carson-418-at-8pm-edt/ 
Having trouble? Try Paypal BUT MAKE SURE TO SELECT John Smith FROM THE DROP DOWN: https://www.paypal.com/donate/?token=0QYorMcQJt259aF9REDpwO2fMu5YtK5tjRmV7XF7hQncFR9cJGk5oqIRIgERqZKNbPxHxG&fromUL=true&country.x=US&locale.x=en_US 
PFS Presents Piper & Carson - 4/18 at 8pm EDT 
Due to the constantly changing reality surrounding the global health crisis of COVID-19, the FIRST priority of the Society is the health and well-being of our community. Following the wild success of its first livestream with Mari Black on March 13, 2020, the Society has worked to to keep the music playing, lift spirits, and make sure the artists in our extended Folk Family can continue to live day to day. We all know music is a universal language and we will be utilizing it as we present artists local, regional, and international - old favorites and new discoveries - to a digital audience of music lovers from the comfort of their own homes! 
PFS is excited to bring you one of our favorite duos on the night they would have played our PFS Monthly Concert! With their tours postponed until the Fall and tens of thousands of dollars lost, this is the time to support the musicians we love and #KeepTheMusicPlaying 
About Piper & Carson 
From festival stages to intimate house concerts, Piper & Carson remind us of why we go to see live music. Their songwriting is free and fiercely personal; as if it's been running in the woods, washing in cold water, and howling with wolves. 
The couple's undeniable chemistry and onstage presence draws the audience into the conversation. Piper's immersive storytelling provides context and familiarity bringing their original music to life. After first meeting on Carson's 
father's organic vegetable farm, they've spent the last four years touring Canada coast-to-coast, showcasing at international folk conferences, touring overseas in the Netherlands and to the Edinburgh Fringe Festival. In December 2017 they released the album 'Piper & Carson' together. Their work is deeply rooted in intention and both strive to use their platform to forward social change and promote mental health awareness. 
This duo will make you believe that folk music can change the world. 
DUE TO THE SUCCESS OF PFS' FIRST LIVESTREAM, THE METHOD THAT WE CAN SUCCESSFULLY USE FOR THIS EVENT IS STREAMING LIVE IN A PRIVATE FACEBOOK GROUP. YOU MUST HAVE FACEBOOK ACCESS TO PARTAKE IN THIS LIVESTREAM. YOU WILL BE SENT THE ADDRESS TO JOIN THE GROUP IN THE CONFIRMATION AND WE WILL ONLY APPROVE YOU IF YOUR FACEBOOK NAME MATCHES WHAT YOU SUBMITTED ON THE FORM, SO BE CAREFUL WHEN FILLING IT OUT PLEASE. WE APOLOGIZE FOR ANY INCONVENIENCE THAT THIS MAY CAUSE. 
We thank you so much for your support and understanding in a time of so much uncertainty. Sending much love to our entire extended folk family. Stay well.